In 2023, several supply chain sustainability trends have emerged as companies prioritize reducing their environmental impact and improving social responsibility.
The last couple of years have set a lot of challenges for supply chains. According to the World Economic Forum, eight supply chains across major industries account for more than 50% of global greenhouse gas emissions, however, a lot of organizations haven't recognized the fundamental importance of the supply chain resilience so far.
Here are five key issues that currently affect supply chains in all industries:
Carbon Neutrality and Net-Zero Goals
When discussing Carbon Neutrality, Scope 3 emissions are considered the most challenging and comprehensive category of emissions to address. According to Gartner, they account for 90% or more of total value chain emissions and they are the hardest to measure and manage. Measuring and managing Scope 3 emissions in the supply chain can be complex, as it requires data collection and collaboration with multiple stakeholders.
Sustainable Packaging Solutions
There is a growing focus on sustainable packaging throughout the supply chain. Sustainable packaging focuses on reducing waste, using eco-friendly materials, optimizing packaging design, and promoting circular economy principles. Biodegradable and compostable materials, recyclable packaging, reusable packaging and plant-based packaging are all expected to gain traction.
Ethical Supply Chain Management
Organizations have turned their focus on ethical and responsible sourcing, avoiding suppliers associated with unethical practices such as child labor, deforestation, or human rights abuses. There is also a growing emphasis on transparency and traceability throughout the supply chain. Improving supply chain transparency has become a top priority for executives in various sectors.
Circular Supply Chains
The concept of circularity has gained traction in supply chain sustainability. Companies are transitioning to circular supply chains by implementing strategies like product take-back programs, repair and refurbishment services, and recycling initiatives. The circular economy provides real brand value and where consumers are aware of this.
New Legislations
A raft of new legislation is about to boot. The recently adopted Corporate Sustainability Reporting Directive has set criteria for companies operating along the supply chain of EU countries. They must implement a due diligence process, identifying actual and potential adverse impacts on environmental and human rights issues. Moreover, the European Parliament introduced the Corporate Sustainability Due Diligence Directive last February, requiring companies to take responsibility for the environmental and social impact of their suppliers.
Online Diploma on Sustainable Supply Chain Management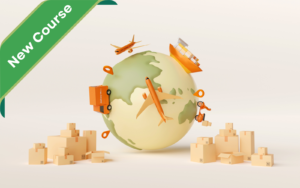 In order to meet the latest sustainability challenges in supply chain management, the Sustainability Academy has introduced a brand-new course, the Online Diploma on Sustainable Supply Chain Management.
The course aims to equip professionals with all the necessary skills and knowledge in order to apply sustainable practices to supply chains. Additionally, it gives an insight on how to start a sustainable supply chain, using appropriate criteria/platforms, and comply with key ESG Ratings and Reporting Standards requirements, supporting the transparency of supply chains.
The course will also help you understand critical related concepts and trends, such as circular economy, sustainable packaging, scope 3 and net zero emissions.
Register now with a 20% discount. The offer expires on June 30. Request your discount code at events@cse-net.org.
---
Why choose Sustainability Academy Certified Courses?
Offer a unique Certification accredited by CPD in an affordable manner trusted by global Fortune 500 companies and global accounting firms for their staff education
Content created by Sustainability thought leaders, professors and trainers with practical experience in the field of sustainability
Self-paced Courses that can be completed anytime within 45 days
Up-to-date content revised on annual basis that includes new legislations and trends based in field research
Joined by thousands of learners from 90 countries, including Sustainability professionals, graduates and entrepreneurs from various sectors