On August 30th, 2023, the Business Intelligence Group bestowed upon it the title of "Sustainability Product of the Year" during the 2023 Sustainability Awards, reaffirming its unrivaled impact on the global sustainability landscape together with other international companies such as IBM & SIEMENS.
The Sustainability Awards honor people, teams, and organizations who have made sustainability an integral part of their business practice, or overall mission. This recognition motivates us to continue pushing the boundaries of sustainability and innovation. We firmly believe that businesses have a crucial role to play in addressing environmental challenges, and our courses are a tangible embodiment of that belief.
Empowering Change Globally: A Unique Mission
Launched in 2018, Sustainability Academy is more than just an educational platform for companies and professionals ; it's a catalyst for global transformation. Exclusively focused on Sustainability Circular Economy, Net-Zero, and ESG (Environmental, Social, and Governance) certified courses, its core mission is to empower professionals, companies, and organizations across the globe with unique and specialized training courses for all its senior executives and staff. According to Sustainability Academy, truly sustainable organizations are those that educate 100% of its staff and are committed to net-zero emissions.
Global Impact: 9,000 Graduates, FT 500 Companies
Over the past five years, Sustainability Academy has left an indelible mark on the world, with over 9,000 individuals from 95 countries, including several Fortune 500 companies, achieving certification through its rigorous programs. The platform stands as a trusted resource, offering highly specialized sustainability training to businesses worldwide. In addition to the thousands of senior executives who have personally chosen the Sustainability Academy for their sustainability training, FT 500 and other  organizations such as Workday, Netgear, MOL, United Nations Federal Credit Union have educated their Senior Executives and staff.
We invite you to be a part of this journey toward a more sustainable future. Explore our courses and discover how they can benefit your organization.
Why choose Sustainability Academy Certified Courses?
Offer a unique Certification accredited by CPD in an affordable manner trusted by global Fortune 500 companies and global accounting firms for their staff education
Content created by Sustainability thought leaders, professors and trainers with practical experience in the field of sustainability
Self-paced Courses that can be completed anytime within 45 days
Up-to-date content revised on annual basis that includes new legislations and trends based in field research
Joined by thousands of learners from 90 countries, including Sustainability professionals, graduates and entrepreneurs from various sectors
---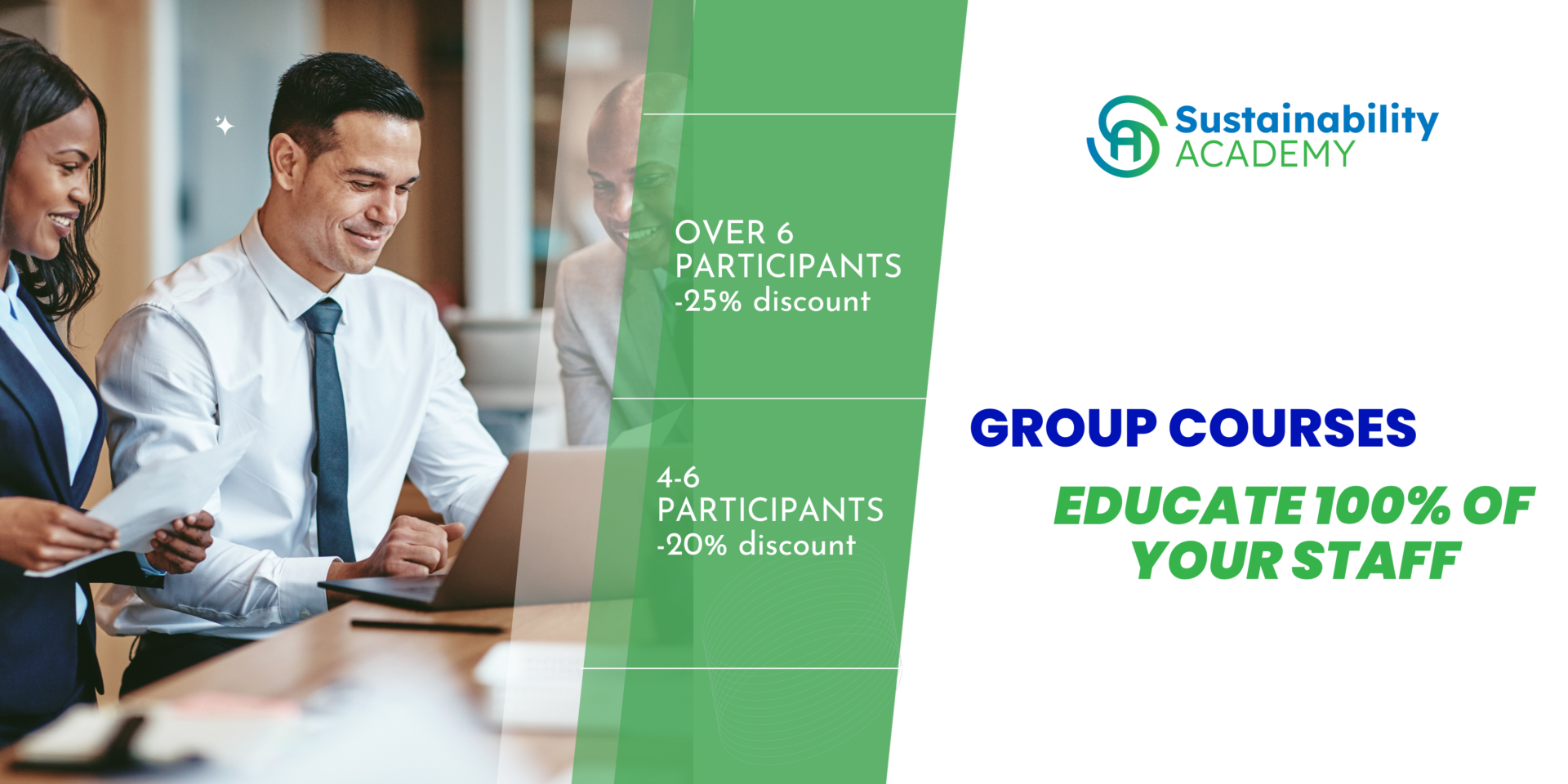 Group registrations allow you to attend our certified courses as a team at the same time. Our group courses are created to tackle present-day problems as well as prepare your company for the future.
Discounts can be applied to a group that registers either to the same course or in a combination of courses. Request more information at [email protected].